Pocket Box Medium - Takes 2, 1.5V AAA Cells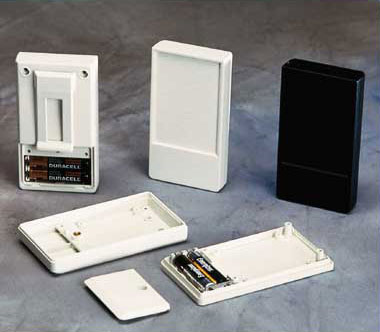 DESIGN FEATURES
Medium-sized pocket box with optional sealing kit. Recessed control area for membrane keyboards. Screw bosses for mounting PCBs in the top and base. Battery compartment lid screwed down from the outside, for 2 x 1.5V AAA batteries. Interior space of battery compartment separated by rib. Case provided with recessed area. Black Infra-red versions permeable to Infra-red signals available.
NEW – Height Expander Strip option increases listed heights by 0.39″.

Case Assembly:
Case shells are assembled by means of 4 self-tapping screws. Mounting of the battery compartment lid by machine screw.

Accessories:
Belt / Pocket clip
Battery spacer
NEMA 4/IP654 sealing kits
Height Expander Strip
Battery clip
Stock Colors:
Off-White: Pantone Cool Gray 1C
Black: Pantone Black 7C 2X
See Page 39 for Color Chart
Custom colors available
All cases available in a fine textured surface.
Stock Material:
ABS (UL 94 HB) and PMMA (plexiglass®), permeable to Infra-red light. Also available in other materials on request
Insert Molding:
Custom insert molding within recessed areas can significantly reduce machining costs for many applications.  An insert area is also available on the top end of the case.
Call for minimum quantities.
Modifications Per Customers Requirements and Technical Information
For accessory information turn to page 35
For machining information turn to page 37
For shielding information turn to page 38
For screen printing information turn to page 39
For NEMA / IP protection classifications turn to page 40
For color information turn top page 39
Product List

Pocket Box Medium - Takes 2, 1.5V AAA Cells

Product Names

Size

Color

Battery Type

Part Number

4.13 x 2.28 x 0.72"

Black, White

N/A

PBM
NEMA 4 Sealing Kit

Product Names

Size

Color

Battery Type

Part Number

N/A

Silicone

N/A

71-SK

Belt Clips

Product Names

Size

Color

Battery Type

Part Number

0.2 x 2 x 2"

Black,Bone

N/A

CLP

Protective Boots

Product Names

Size

Color

Battery Type

Part Number

0.73H x 2.28W x 4.13L"

Alert Red,Caution Yellow,Dark Blue,Jet Black,Light Blue,Safety Orange

N/A

PBM-RBT

Expander Panels: Accessories

Product Names

Size

Color

Battery Type

Part Number

0.4H x 2.28W x 4.13L"

Black,White

N/A

PBM-HE