Flat-Tech Cases - - Wall Mount or Desk Top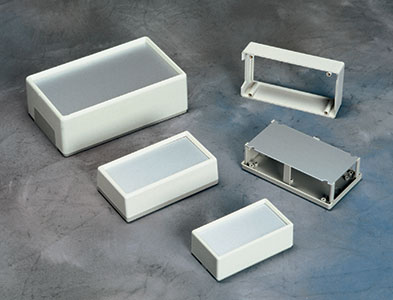 DESIGN FEATURES
Flat workable aluminum top that provides a good surface for large toggle switches and large activation buttons. The top plate is self-supported. Enclosure can be wall-mounted or hand held for tethered applications. The top can be custom CNC die punched at our factory to meet your specific requirements.
Supply:
Comes with one top plate & assembly screws.
Standard Material Options:
ABS UL 94 VO (fire retardant)
ABS UL 94 HB standard
Polycarbonate
Glass Filled Nylon
Stock Colors:
Top: Off White
Bottom: Grey
Three sizes:
– 4.7 x 2.6 x 1.6″
– 5.9 x 3.4 x 1.8″
– 8.3 x 4.9 x 2.7″
Product List

Flat-Tech Cases - - Wall Mount or Desk Top

Product Names

Size

Color

Battery Type

Part Number

4.72" x 2.56" x 1.57"

Off White Top with Grey Bottom

N/A

FTS-165

5.91" x 3.35" x 1.77"

Off White Top with Grey Bottom

N/A

FTM-165

8.26" x 4.92" x 2.75"

Off White Top with Grey Bottom

N/A

FTL-165
Extra Aluminum Top Plates

Product Names

Size

Color

Battery Type

Part Number

4.45" x 2.28" x 0.04"

Silver Colored Aluminum

N/A

FTP-201

5.59" x 2.81" x 0.06"

Silver Colored Aluminum

N/A

FTP-301

7.91" x 4.57" x 0.06"

Silver Colored Aluminum

N/A

FTP-401