100 Series Angled LCD Case, Flat Bottom 7.5 x 4.0"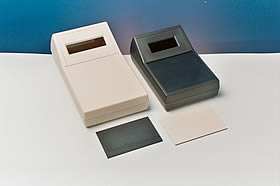 100 series Angled LCD Case with Flat Bottom
A very versatile LCD enclosure with LCD display window. Recessed area for membrane keypad. Battery options include: 2AA, 3AA, 4AA, 6AA, 1 or 2-9V, 2C, 4C and No battery.
Battery Options:
No Battery
2 AA cells
3 AA cells
4 AA cells
6 AA cells
1 or 2-9V cells
2 C sized cells
4 C sized cells
All LCD enclosures supplied with recessed top for membrane keypad or overlay.
Color Options:
PC Bone
Black
Custom color matching
Standard Material Options:
ABS UL 94 VO (fire retardant)
ABS UL 94 HB standard
Dimension Options:
(L x W x H)
7.50″ x 4.0″ x 1.12 / 2.10″ *
7.50″ x 4.0″ x 1.29 / 2.26″
7.50″ x 4.0″ x 1.75 / 2.70″ *
7.50″ x 4.0″ x 1.90 / 2.85″ *
Product List

100 Series Angled LCD Case, Flat Bottom 7.5 x 4.0"

9V, 2AA, 4AA, 6AA, 2C & 4C

Product Names

Part Number