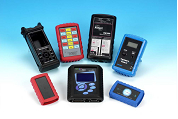 We specialize in product design, tooling and injection molding of custom plastic enclosures. We are very experienced with two shot molding and over molding rubber materials on plastic. Desk-top, Hand-held, NEMA enclosures, any battery configuration. Years of experience molding every conceivable material suitable for enclosures.
New! Hard Steel – Ultra Fast Tooling Program
We can provide a custom molded first article for inspection in 14 working days! This is a result of our new high speed EDM, high speed wire cutting EDM and new high speed 5 axis CNC machines.
Industries Served
We offer services to these customers:
Telecom
Semiconductor
Industrial equipment
Medical equipment
Wireless products
Military products
Aviation
Consumer electronics
Ultra FAST Tooling Program
When you need parts YESTERDAY!
Ultra Fast Tooling (UFT) typically describes a process which either uses high speed CNC, High speed EDM and high speed EDM wire cutting machines.
FIRST ARTICLE IN 14 WORKING DAYS HARD TOOLING!
We are particularly proud of our rapid tooling capabilities, and offer prices well below those typically in charged in the USA.
Advantages of Chinese product development and manufacturing extend to a well-established base of local tooling expertise, matching services and quality offered by western tooling firms but with the advantages of time and cost savings.
We respond quickly to requests for quotation after receipt of your CAD (ProE or IGES format) files via email or FTP transfer.
Advantages:
Tool life is the same as conventional tooling.
Tolerances are wider than for conventional tools.
Tooling time is much shorter than that of conventional tooling. Time to first articles can be less than one-fifth compared to that of conventional tooling.
Benifits of Rapid Injection Molding:
Prototypes in production material in short timeframes.
Allows for full fit and function testing.
Discover any design flaws early on. Low cost tooling allows for ease of geometry modification and design refinement.
New! High-Precision Injection Molding Shop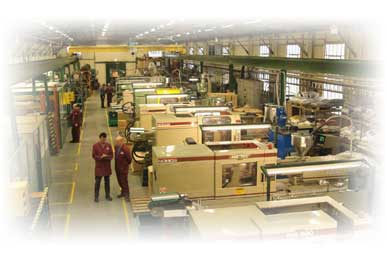 Box Enclosures is experienced in providing tooling for high-precision injection molding. This solution is required when molding products with extremely tight tolerances.
Completing your high precision tooling in China is particularly worthwhile as low labor costs allow for an attention to detail that is prohibitively expensive in the West.
We use all modern tooling techniques:
CNC surface grinding Obtaining precision dimensions inside cores and cavities across entire tools means that each individual block has to be precisely positioned and aligned within its seat. CNC techniques enable external surfaces to be as flat and square as possible and to be very accurately positioned relative to core and cavity locations.
Face-mounted inserts for quick change.
Regular scheduled tool maintenance.
Use of rheologically balanced runners.
Use of quick mold change systems.
Mold design practices that allow for future flexibility in production.
Why Choose Box Enclosures & Assembly Services?
Box Enclosures makes many types of custom plastic enclosures that are manufactured in the USA and in our China factory. We manufacture custom plastic enclosures for computer peripherals, modems, routers, PDA Cradles, phone chargers, electrical devices, fire alarms, computers, computer monitors, plastic electronics enclosures and many other types of enclosures. Box Enclosures can manufacture any custom plastic enclosure for any application. Provide us any enclosure specifications, design, drawing or custom plastic injection molded part and we can assist you with design, tooling, manufacturing and assembly production (in China, Taiwan or the U.S.) along with the required logistical support.
Our large variety of equipment allows us to manufacture products for almost any plastic application. Small and Large plastic injection molding machines ranging from 30 up to 2,000 Tons in size give us a full range of plastics capabilities. Warehousing and engineering at our central U.S. location in Illinois, or shipping from our manufacturing facilities in China gives Box Enclosures a unique advantage in servicing customers with facilities anywhere around the world.
Box Enclosures is capable of molding custom plastic enclosures in all types of engineering grade resins requiring close-tolerance specifications with superior quality, finishes and aesthetics. We carry various CAD software programs to ensure we can assist you using most of today's programs.
Box Enclosures also has additional capabilities including bonding, painting, printing (pad printing and silk screening) and basic assembly for custom plastic enclosures with electronic components and other hardware. This allows us to be a single source for many of your plastic and electrical needs.
Our warehouse and logistics centers in Shenzhen China (just inside the border from Hong Kong) and Lake Bluff, Illinois make sure all of your delivery needs are met. From our China location we can ship to any location in the world. Our central United States location in Lake Bluff, Illinois can warehouse product and provide next day service to any city in the USA. We have routine shipments of containers coming into the central United States in order to provide competitive pricing on large orders.