BEX Series 2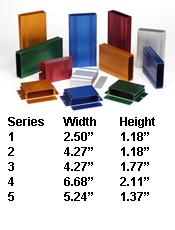 Aluminum Enclosures
Versatile anodised aluminium extruded box section with integral card slots in four profiles and a range of standard lengths. Optional mounting lugs and end plates available.
Color Options:
Black, Silver, Red, Green, Blue,Gold
Services Available:
Custom end plates
CNC Machining
Non-standard lengths
Custom lengths available!
ProductsList

Product Namess

Size

Part Number

1.18Hx4.27Wx8.66L"

B2-220

1.18Hx4.27Wx6.30L"

B2-160

1.18Hx4.27Wx3.15L"

B2-080
End Plates

Mounting Flanges

ProductName

PartNumber

MF80

MF40

Rubber End Caps

Screws, Self-Tapping

ProductName

PartNumber

STS-400

STS-008

Screws, Thread-Forming

ProductName

PartNumber

TS-400

TS-008

Sealing Kits