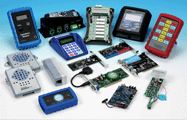 Box Enclosures is one of the technology leaders in PCB assembly industry. We carry the latest equipment and capabilities as the largest giants. You will enjoy Tier-1 service and technology without the hassle of dealing with Tier-1 bureaucracy. Please contact us and find out how can we solve your toughest turnkey PCB assembly challenge. We will handle your local production, as well as low cost overseas production.
Established 1990
Lead Free RoHS in production
U.S. Factory Plus China Factories
Full Product Development, from concept to China high volume production
UL, ISO certified
Best Technology, Best Quality
Industries Seved
We offer services to these customers:
Telecom
Semiconductor
Industrial equipment
Medical equipment
Wireless products
Military products
Aviation
Consumer electronics
Full Assembly Services
At Box Enclosures we have years of product assembly experience. If you are still assembling in the US and tired of paying 22 – 50% more than you should be paying, let us quote your full assembly! – No! you don't need to be doing high volume! We do Full Assembly runs on quantities as low as 250 pcs. / year. All we need is a working Sample, BOM and Gerber files. Small Quantity – No Problem!
Pick & Place / SMT Chip on Board Through Hole Soldering Multi Layer Boards Potting Conformal Coatings Functional Testing
We understand it takes best equipment to produce the best quality!
Pick & Place Machines and SMT machines- top of the line
Fuji CP642, Fuji CP65, IP3, Mydata MY12, MY9, TP11, Juki
Conceptronics, Heller, Research Convection Reflow ovens from 7 to 10 zones
Dek 265GSX, Dek 265GS
Wave Solder PTH machines
Electrovert wave solder
Vitronics RoHS wave solder
Electrovert inline cleaner
Automatic Optic Inspection machines
BGA rework
X-Ray Machines
Agilent 5DX – 3 dimensional X-ray machine
Feinfocus – sub micron 3 dimensional X-ray machine
XRF- RoHS certification X-ray machine
In-Circuit Test
Agilent/ HP 3070 series 3 , 2 systems
Teradyne
Pressfit machines